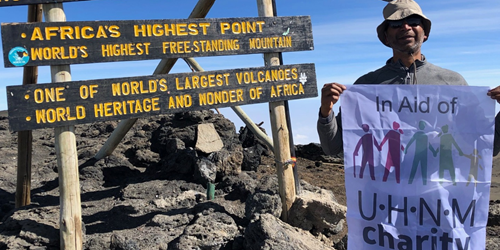 Whatever you love doing, doing it for UHNM Charity will help us provide the best care for our patients at University Hospitals of North Midlands NHS Trust (UHNM).  
We provide support for staff at the Royal Stoke University Hospital and County Hospital in Stafford to deliver the best possible care to over three million people from Stoke-on-Trent, Staffordshire and beyond. 
Your generous donations have funded state-of-the-art equipment, improvements to patient comfort and experience and potentially life-saving-research. 
Fundraising for UHNM Charity is easy!
Fundraising for UHNM Charity couldn't be easier! Here's our three simple steps on how to get involved. 
Step one: Chose a ward or department to fundraise for
UHNM Charity is the hospital charity for UHNM with every penny raised going to support projects at the Royal Stoke and County hospital in Stafford. You might have a specific ward or service of ours close to your heart which you would like to fundraise for. You could also raise funds for our General Fund, where donations go wherever the need is greatest. Either way your money will make a big difference to the care and experience of our patients!
Step two: Decide how to fundraise
There's no limit to the ways you can fundraise for us! Here's our A-Z: 
Auction
BBQ
Cake sale
Car Wash
Dog walk
Fun run
Fitness event
Garden party
Golf day
Head shave
Karaoke night
Loose change donation
Marathon
Music event
Name the teddy
Office event
Parachute jump
Quiz night
Raffle
Swimathon
Tabletop Sale
Walking event 
Yoga classes
Many of our fundraisers take part in an organised event such as the Potters 'Arf Marathon or Stafford 10k.
Step Three: Spread the word
Now you've decided who to fundraise for and how you'll raise the money let us know via the form below!
We can't wait to help support you in every step of your fundraising journey from setting up your online fundraising page or sponsor forms, getting you kitted out in one of our special UHNM Charity t-shirts and promoting your event via social media or the online press.