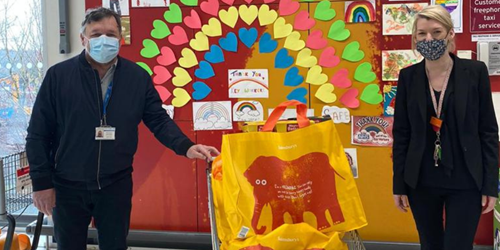 Whether you're a sole trader or a multi-national business we can support you and your staff to raise funds for UHNM Charity.
Because we're such a large hospital trust and cover such a wide range of health specialities you are sure to find an area to fundraise for which your employees hold close to their heart. And what better way to demonstrate your corporate social responsibility than by choosing to support the hospitals which care for your staff and their families throughout their lives.
Many businesses choose to raise funds for large groups of patients such as children, cardiology or cancer. Or you could raise funds for a specific piece of equipment, help us to develop our arts programme, or fund a research project. If you're not sure we can tell you about our current appeals so that you can involve your staff by getting them to vote on which appeal they want to choose.
If you're planning on holding a public fundraising event we can promote it to the 10,000 people who work across the Trust through our intranet and we often use Facebook and Twitter to tell our supporters what's on.
We are happy for you to do a one off fundraising event but we are also keen to work with businesses which are looking to choose a 'charity of the year' and to develop more long term partnerships. If you would like to discuss this in more detail please contact the charity office on 01782 676444 or email us.