Staff at University Hospitals of North Midlands (UHNM) are being taught advanced cardiac life support skills thanks to charity funding.
Teams from Royal Stoke University Hospital and County Hospital, Stafford are now able to take part in specialised training courses thanks to a grant from UHNM Charity.
The Cardiac Advanced Life Support courses run by UHNM's own clinical educators and medical staff, allow staff from areas including Cardiothoracic Critical Care, wards and theatres to acquire potentially life-saving skills to care for patients who deteriorate following cardiac surgery or go into
 cardiac arrest.
The nationally-accredited courses means UHNM is able to call itself a Centre of Excellence in Advanced Cardiac Life Support.
Angela Huscroft, Clinical Educator in the Trust's Heart Centre said: "The training is designed specifically around the treatment of patients who have undergone cardiac surgery. It is designed to train staff to respond to the needs of the deteriorating patient and to use protocols to facilitate emergency surgical procedures post-cardiac arrest, a met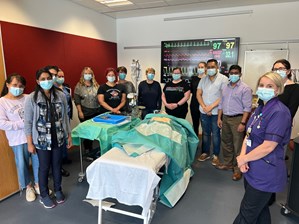 hod which is different from other protocols across UHNM.
"The funding from UHNM Charity has allowed us to purchase specialised training equipment including a 'chest opening' mannequin, training scenarios as well as accredited lecture content and protocols. I would like to once again express my sincere thanks to UHNM Charity and its supporters for enabling us to carry out this training for the benefit of our patients."
She added: "The new Cardiac Life Support course brings together the multi-disciplinary team from across the Cardiothoracic speciality together on one day allowing them to focus solely on this high-level training."
Dr Krishna Pasupuleti, Clinical Lead for the Heart Centre said: "Cardiac surgical patients, due to the nature of the surgery are at a high risk of developing life threatening complications including cardiac arrest in the immediate post-operative period. Timely intervention enables better outcomes for patients but requires highly trained staff to facilitate this.
"The cardiac surgical advanced life support (CALS) course is specifically designed to address these training needs. Although this has been one of our objectives to make the UHNM cardiothoracic department a centre of excellence for some time, it has only been made possible by UHNM Charity".
Melanie Mountford, UHNM Heart Centre Matron added: "Having our staff including nurses trained in Cardiac Advanced Life Support offers us the ability to be more prepared and save valuable minutes before medical teams arrive if our patients require resuscitation. This ultimately means a better outcome for our patients."