A Congleton cyclist has peddled the width of the country to raise funds for the hospital that provided care to his mum.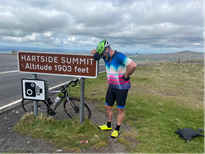 Ian Rushton spent three days in the saddle cycling from Whitehaven in Cumbria to Tynemouth in North Tyneside in aid of UHNM Charity and the Renal Unit at the Royal Stoke University Hospital.
Ian was accompanied on the challenge by friend Chris Ball which saw them take in stunning scenery, bad weather and steep climbs.
Ian said: "I've had a keen interest in cycling since I was a child and always said I should be doing something for my mum Adela who has unfortunately had kidney failure since I was young. She's needed treatment at the Renal Unit at University Hospitals of North Midlands NHS Trust (UHNM) for 30 years and the care has always been good. A few years ago I cycled from Land's End to John o' Groats and my friend suggested we do a similar challenge."
The pair chose an established cycling route to take across the country which allowed them to enjoy the ride and scenery.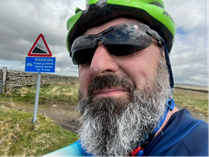 Ian said: "The first day took us 53 miles from the starting point in Whitehaven to Penrith in the Eden Valley. It involved 4,300ft of climbing and it rained all day. That lunchtime we stopped in a café in Keswick who felt sorry for us and kindly let us use their dog towels to dry off.
"Day two saw us cycle the 51 miles from Penrith to Stanhope in the North Pennines via the Hartside Summit. Whilst the weather was good, the amount of climbing, over 6,000ft was horrendous. It was a tough day, especially for those on electric bikes who were panicking as their batteries went flat.
"On the third and final day I took charge of the route as we cycled the 35 miles from Stanhope to Tynemouth. Despite me managing to find a 20% climb for us along the way making me an unpopular chap, the ride to the finish line was relatively flat."
Steve Rushton, Head of UHNM Charity said: "We would like to say a big thank you to Ian and Chris for taking on such a huge challenge for UHNM Charity. Every mile that they cycled and pound raised will go towards improving the care and experience of patients who rely on the services of our Renal Unit."