The UHNM Charity-funded Critical Care Rehabilitation Garden has been officially opened at the Royal Stoke University Hospital.
The garden has been specially designed to provide patients with a safe haven away from the clinical environment of the Critical Care Unit to help with orientation, engagement and to shorten their recovery period.
The ribbon on the garden was cut by former Critical Care patient Grace Hopkins from Trentham.
Sandra Barrington, Critical Care Matron said: "For those patients who are admitted to Critical Care, in the early stages of their illness most are sedated and ventilated. But as they come out of that it's a frightening environment to be in- there's a lot of machinery, they're not sure what has happened and it's difficult for them to try and make sense of their environment and differentiate between day and night. So having this garden where you can bring them outside greatly helps with their recovery process."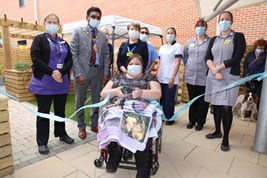 The garden was funded thanks to fundraisers and supporters of UHNM Charity. Those in attendance for the opening ceremony included former Critical Care patients, staff from across UHNM including clinical staff and the Lord Mayor of Stoke-on-Trent Cllr Chandra Kanneganti.
Jo Steele, Critical Care Rehabilitation Coordinator said: "The garden has been specifically designed to provide a safe haven for patients and to help with orientation, engagement and shorten their recovery period. The natural environment helps patients reconnect with their sleep-wake cycles and to build resilience and independence. We understand the value of giving patients the opportunity to experience respite from the challenging Critical Care environment and to feel fresh air, to feel rain, and to feel the sun."
Cllr Kanneganti said: "The effects of somebody who has a prolonged stay in critical care are well documented and this garden is a place where they can come and relax-- the physical and psychological benefits are huge. I'm so glad that UHNM Charity is able to support this venture and with the efforts of lots of people we have this excellent garden."