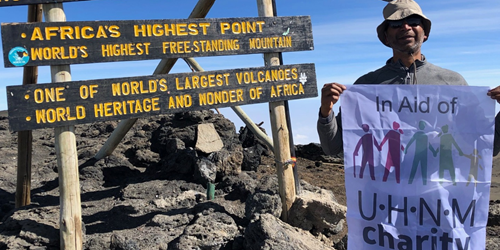 Whatever you love doing, doing it for UHNM Charity will help us provide the best care for our patients. 
There are endless ways in which you can fundraise so whether you love baking cakes, are daring enough to shave all your hair off or are setting off on a bike ride or about to run a marathon, you can be certain that doing it for us will make a real difference to our patients. 
Let us know about your fundraising so we can lend a hand
Email us or telephone us on 01782 676444 and tell us what you have planned. We will then send you a registration form to complete so we have all the information we need to authorise your fundraising. You can also use this form to order some fundraising resources to help you raise money.
Get your fundraising pack
Once you have sent this registration form back to us, we can authorise your fundraising. We then provide you with an authority letter, fundraising tips and the resources that you ordered (t-shirts, sponsor forms and collection cans etc).   
We will:
1) Start to shout about your fundraising with you
2) Tell you how to boost the money you raise
3) Give you guidance to help your fundraising stay safe and legal
Fundraising Online
Fundraising online is a safe, quick and easy way to collect your sponsorship money from friends and family. It enables you to tell your story through words and photographs, updating it through out your fundraising journey. We ask fundraisers to use Virgin Money Giving as other sites have higher costs, that are taken from the money you raise. Please wait to receive your fundraising pack and authority letter before setting up an online fundraising page (this should not be a crowd fundraising page).